My favorite time of the year has rolled around again. Football and the Ren Faire. It stinks the scheduling conflicts sometimes but good times! Soon I'll be hanging out at Darin and Becky's on Monday nights cooking and eating while watching MNF. On the weekends I'll hit a college game or the faire...maybe this year I can score pro tickets.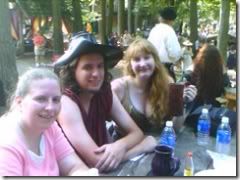 In any case, check out my goofy ass between two beautiful chicks. Erica is in the front and Shana is in the back. Check out my white arms! Wow, that's really pretty disturbing.
Oh, and good god was it hot. 100+ degrees the Jeep said before we arrived. Humid as heck. Felt like a sauna most of the day. Totally sweated through my silk shirt (yea, silk...good call on my part). Luckily nothing a lot of wine and mead couldn't handle.
On the way home we drove through this amazingly violent storm. It was quite awesome.